Virtual Music Instruments
An immersive experience and learning through virtual music instruments
It's your turn. Play extraordinary music through some of the world's best virtual music instruments online using the Virtual Piano platform. You don't need to download or install anything and you can play free of charge. Just select your instrument to play on your computer, tablet or mobile. Then choose from one of the thousands of music sheets and play!
Welcome to Virtual Piano. Improving the way the world engages with music.
The musical world is your oyster!

Explore Virtual Music Instruments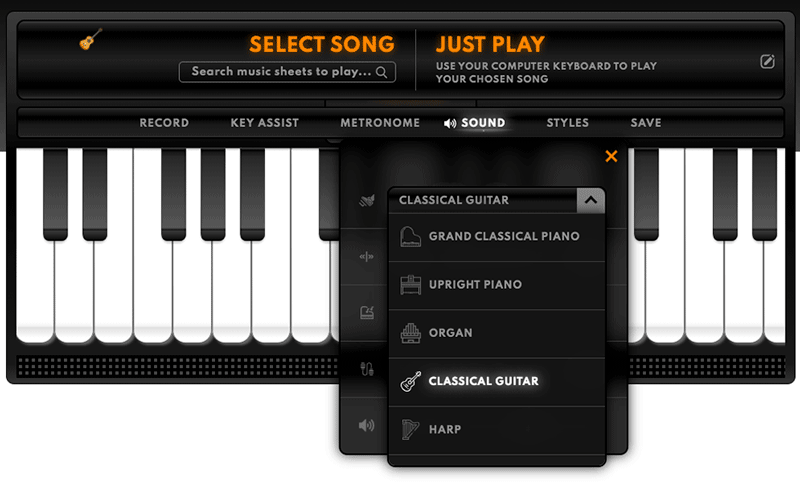 Select one of our virtual music instruments from around the world and get creative. Play an instrument by clicking on one of the images above to load the sound into Virtual Piano.
Try out the harp and fall in love with its delicate sounds. Or perhaps you want to play the virtual violin? The violin is a small stringed instrument with a hollow body that is most commonly made of wood. The four strings of a violin are usually played using a stringed bow, but you don't need the real thing with the virtual violin. Virtual Piano produces the sound of a traditional violin directly from your computer, tablet or mobile.
Experience something a bit different with the virtual oud. There are three different types of traditional oud, Arabian, Turkish, and Persian. So, where a song may usually feature a guitar, try it with an oud and see how the sound changes how you experience the music.
Anyone can play a variety of world instruments through Virtual Piano. You don't need to be able to read music or to have played music before. Virtual Piano music sheets contain letters that correspond to your keyboard keys so you can create music instantly.
Instantly Learn

How To Play
The characters you see in the Virtual Piano Music Sheets represent the keys on your computer keyboard. By pressing the highlighted keys, you can enjoy playing outstanding music.
1. Select a song using the piano Search box or by browsing the Music Sheets
2. Letters in the music sheets refer to the keys on your computer keyboard
3. Press the highlighted keys on your computer keyboard to play the song
More on How To Play