Virtual Piano enables you to play the piano instantly, become an online pianist and create your own extraordinary music!
Virtual Piano is the most widely used online piano keyboard worldwide. It enables millions of people to learn and play the piano in less than a minute. You don't need to be able to read traditional sheet music. All you need to do is select a Virtual Piano music sheet, and press the keys on your computer keyboard that are highlighted in the music sheet. It's that simple. Yet it gets more interesting, more rewarding and more educational as you continue to play a variety of your favourite songs. You can play it on your computer, tablet or smartphone. The experience is highly intuitive. This is all free of charge but if you want to go further, there is a world of opportunities in our premium edition; Virtual Piano Plus.
The vision of Virtual Piano is to spread the joy of playing the piano to every corner of the globe. In the last 15 years, this vision has already helped Virtual Piano boost the health and happiness of millions of people around the world. Now, we envisage going further together with you. Further than ever, to nurture compassionate new generations of online pianists with healthy minds, positive energy and ambition to contribute towards making the world a better place.
The aim of Virtual Piano is to enable people to experience the piano through their computer, anywhere in the world. The platform achieves this by providing an online destination for piano music that is easy to use, high quality, informative, trusted and fun.
Our goal at Virtual Piano is to engage and inspire people of all ages and abilities, to nurture a passion for playing music.
The Grand Piano
The Story of Virtual Piano began when a young man heard a beautiful piece of music on a grand piano and wanted to learn to play it himself.
The Challenge
The challenge was two fold. Firstly, he didn't have access to a grand piano. Secondly, when he did, he didn't know how to read formal music notation. In those days, there was no solution online either.
The Lightbulb Moment
Having read Computing Science and Artificial Intelligence at Oxford Brookes University, he wrote software that loaded the grand piano sounds into a computer. Then, he created technology that translated the traditional music notation into the English alphabet.
The "Instant" Experience
The software allowed the young man to play the song instantly by simply pressing keys on his computer keyboard. The keys on his computer keyoard corresponded to the notes of the music sheet. So, this inspired him to share the experience with others who had encountered a similar challenge.
"Virtual Piano" Established
This unique way of reading music to generate piano sound was pioneered in 2006 and registered online with the words "Virtual Piano".
Spreading Love
Since then, hundreds of millions of people have used Virtual Piano to learn, play and teach. There have even been countless imitations of the platform. However, the original Virtual Piano remains true to its foundations. It continues to innovate, help, inspire and spread love by empowering everyone to play the piano anytime, anywhere in the world - with a free of charge option.
Virtual Piano is based on a 5 Octave Piano Keyboard with 61 keys; 36 white and 25 black. This extends to a full 88 key piano when the Transpose function is utilised (under Sound settings).
Virtual Piano is a free to use platform that enables you to play the piano online through a computer keyboard and an internet browser, without the need to download or install anything. The website is fully mobile and tablet optimised but there's also the option to download the Virtual Piano app via the App Store or Google Play for Android devices should you prefer. Virtual Piano makes the piano accessible to anyone at any level, allowing professionals and budding musicians alike to play, compose or simply enjoy a musical break from the everyday.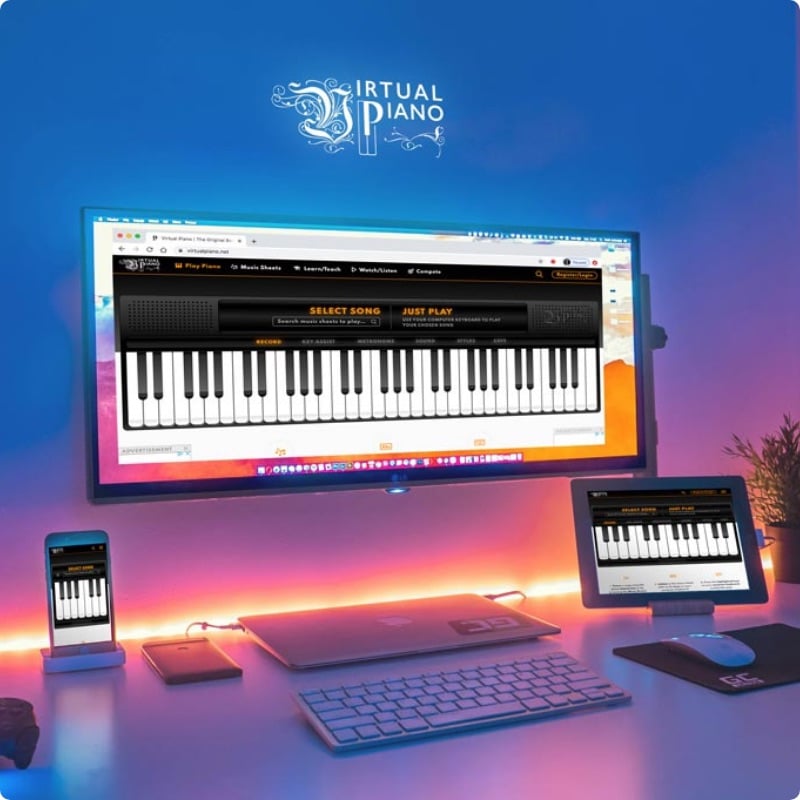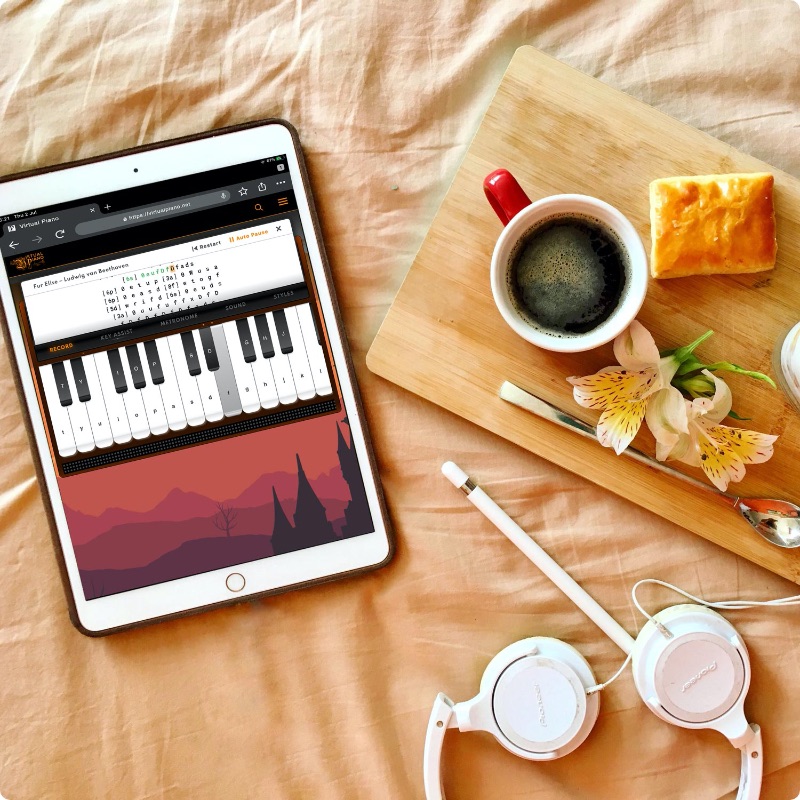 You don't need prior knowledge of music notation or to know how to read traditional sheet music. Our unique Virtual Piano music sheets use the regular English alphabet and simple semantics from a QWERTY keyboard, so you can enjoy the experience of playing the piano instantly. It's the easiest way to learn to play the piano.
We've perfected the accuracy, fidelity, and intelligibility of our audio output. Our original online piano now provides users the choice to experience a Classical Piano, a Grand Classical Piano or an Upright Piano. Feel the legendary sound of a Classical Grand Piano or an authentic Upright Piano right underneath your fingertips. Savour the warmth and the realistic 3D dimension of the full piano sound, achieved by accurately capturing the original instruments in their entirety. The sound will move you and inspire you to keep playing. The "Sustain" feature allows you to extend the piano notes but can easily be switched off through the sound settings. The "Volume" setting enables users to set the volume intelligently to suit their headphones, speakers or location.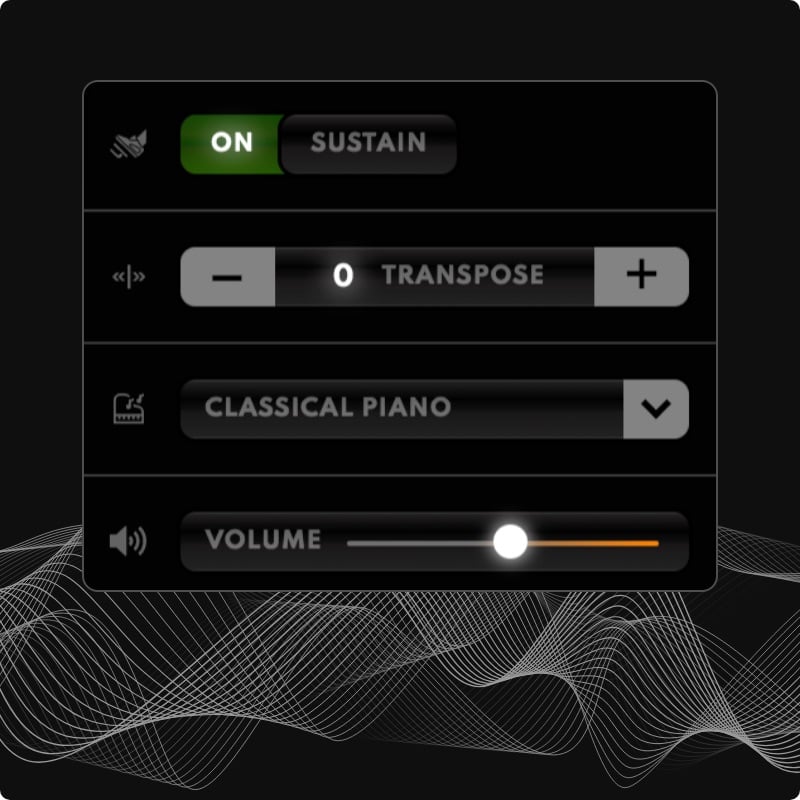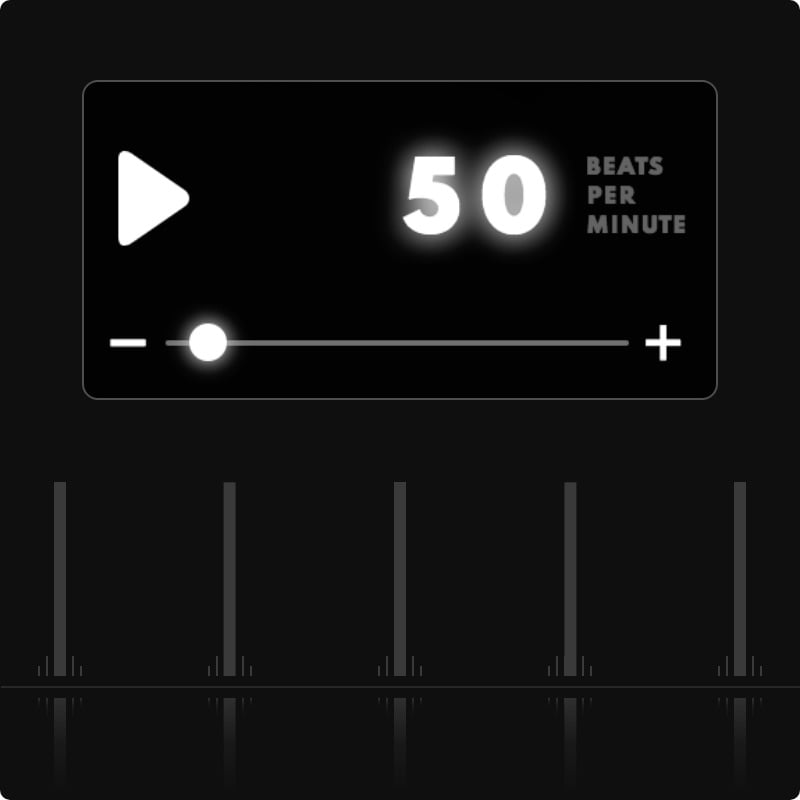 Virtual Piano has an integrated Metronome which produces an audible click at a regular interval that can be set by you, in beats per minute (BPM). You can use this tool to practise playing to a regular pulse. Practising with a metronome online will help improve your musical timing and your ability to stick to a regular tempo.
An Instantly Understandable
The Virtual Piano key labels help you to easily identify which key to press when you are playing a song. There are four clever Key Assist modes for you to select from. The first are key labels that correspond to your keyboard and the second are key labels that correspond to the actual musical notes showing the 5 octaves from C1 to C6. You can also turn key assist off and have clear piano keys with no labels. The first mode of key assist plays an important role in empowering you to play the music sheets on a labelled piano with ease. Learn more about Key Assist.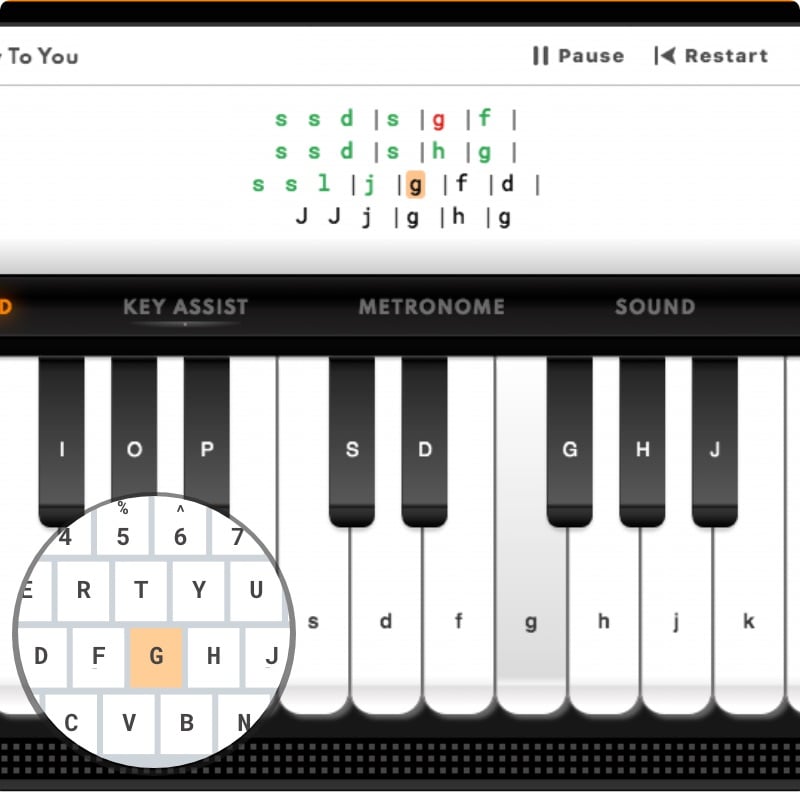 This online piano enables you to record your performance in a high-quality MP3 sound file. Recording is capped at a maximum of 30 seconds but increases up to 5 minutes for Virtual Piano Plus users. Once your sound has recorded, you can easily download and share your performance with the world. You can also choose to share it with over 19 million virtual pianists in our global community by submitting it to Virtual Piano Radio. Let it be the beginning of some of your most remarkable musical adventures!
Customise Your Piano Settings with
Experience Virtual Piano in your favourite colours, to suit your mood or the season. Create a breathtaking colour combination today but stay open to what you may fancy tomorrow. The possibilities are limitless. Virtual Piano is yours and you can choose how to express yourself. When you're logged in as Virtual Piano + member, you can also save your settings.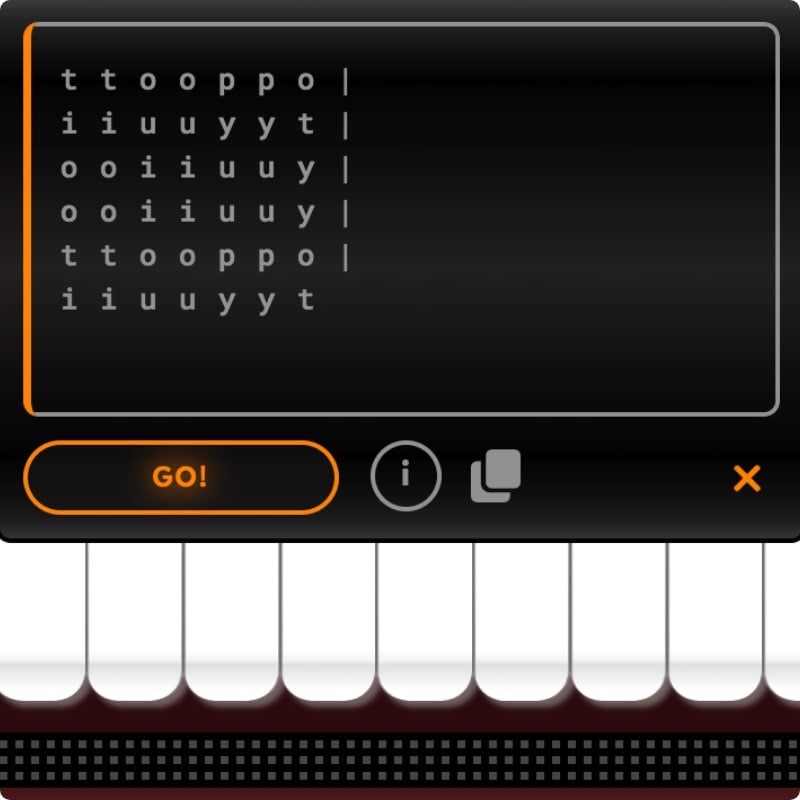 Compose Your Own Music with
The music sheet producer function allows you to practice songs, to track what you are free-playing or even paste in songs that you have created and then perfect them. The producer also removes errors in your music sheets when you play using auto-play and shows you which keys are being pressed on the piano. The music sheet producer is where you can let your creative side come out and create your own piano masterpiece or practice your favourite songs until you're ready to get rated! To access the Music Sheet Editor, simply click on the right arrow on the piano dashboard and then the edit icon.
For the first time you can now search for the song you want to play directly from the piano itself just by typing the song name or artist name. When you select your chosen music sheet, the stats box will show you the song level and the target time for that song. You can discover new music sheets through a variety of musical genres, making it super easy to play any song. Each music sheet has a page of its own and a "Play This Song" button that also loads the sheet into the piano when you are ready to play it.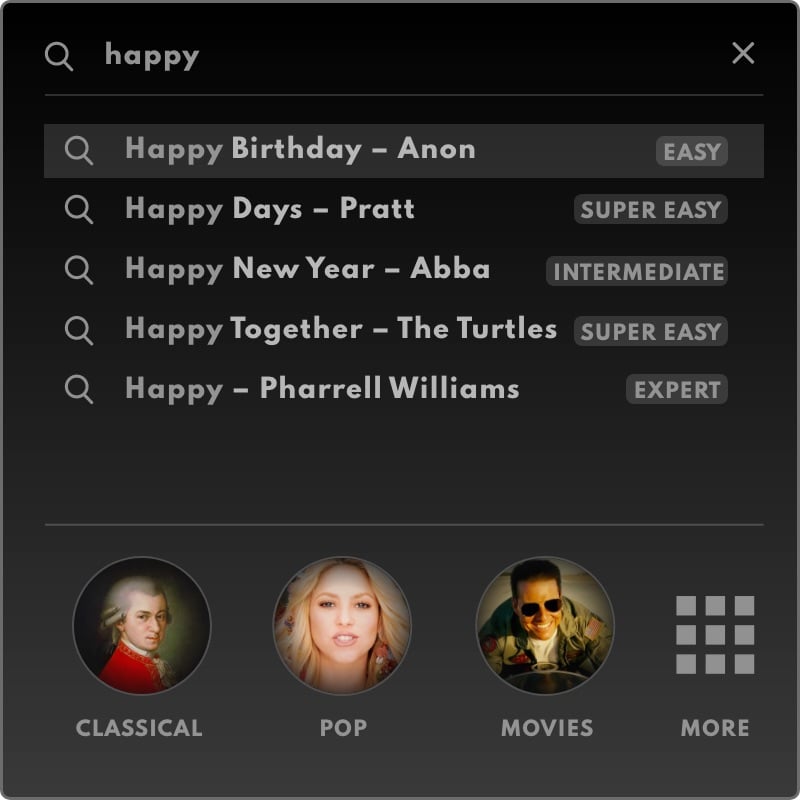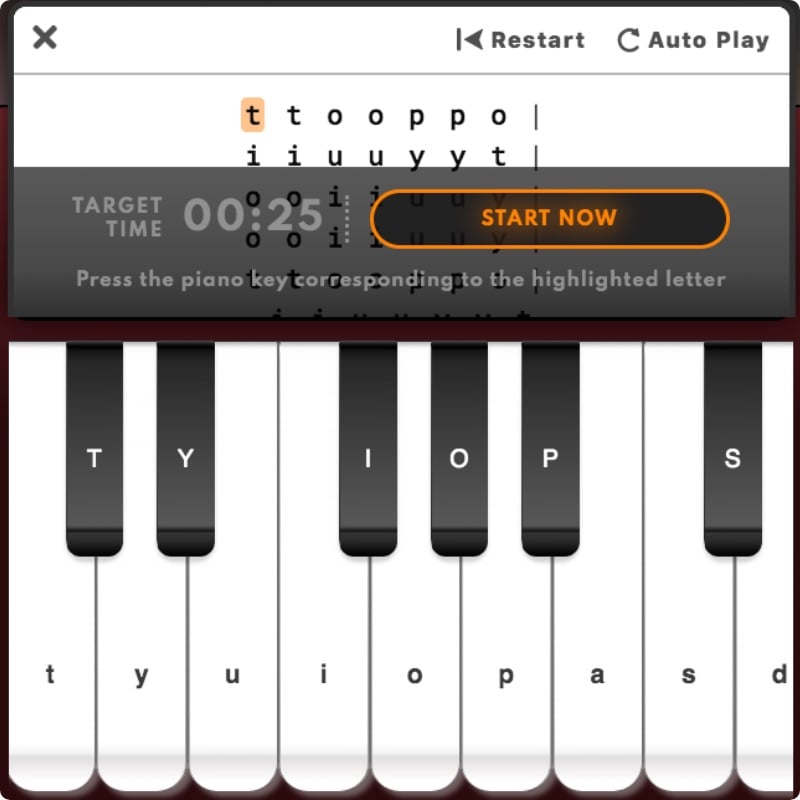 The loaded music sheet displays right above the piano keys themselves, so it's very easy for you to read the music sheet and play at the same time. The intuitive design makes the experience clear and simple. Once your music sheet has loaded, you will see the "Target Time" displayed, which indicates the ideal timing for the song as well as a "Start Now" button, that you can press when you are ready to play the song. The letter you need to play next will highlight in orange. If you play it correctly, it turns green, if you play the wrong key, it turns red. You can press 'Restart' at any time to restart the song and your rating won't be impacted.
The Most Comprehensive Library Of
When it comes to playing the piano online, you'll find the world's most comprehensive library of rated and verified music sheets on Virtual Piano. When you play music sheets that have a 'Verified' symbol, this means the music sheet has been tested and ranked by other pianists and playing this type of music sheet contributes to your Virtual Piano Rating. You too can be part of our special 'Legends' panel who rate and verify our virtual piano sheets.
Playing Virtual Piano elevates your hand-eye coordination seamlessly. This means the speed at which your brain perceives information, processes it and sends it to your hands to execute, improves exponentially. Virtual Piano improves your typing speed, increases your communication efficiency and saves you time. It also has health benefits as it can improve your posture as well as reduce fatigue and boost your productivity. Being a better touch typist not only helps you with more accurate typing at work or school but it also means that you'll be a better Virtual Pianist. Join Virtual Piano + to access the Typing Workshop from level 1 all the way to level 8 and achieve your Virtual Piano Touch Typing certificate.
Let Your Brilliance Shine with a
Earn a Virtual Piano Rating for playing well by pressing the correct letters, within the target time for each Verified song. Your "Pianist Rating" displays when you complete a song, along with your "Accuracy Score," which reflects how accurately you played the notes. Each song has a difficulty level of 1 - 10 with 1 being super easy and 10 expert level. Members can improve their Pianist Rating by playing harder songs, being 100% accurate and by getting the song timing correct. Your pianist rating will change with every song you play during a session. The default rating is 1,000 for each pianist and once you leave the site and return, your score resets back to 1,000, unless you are a Virtual Piano Plus member, in which case your rating is saved when you are logged in.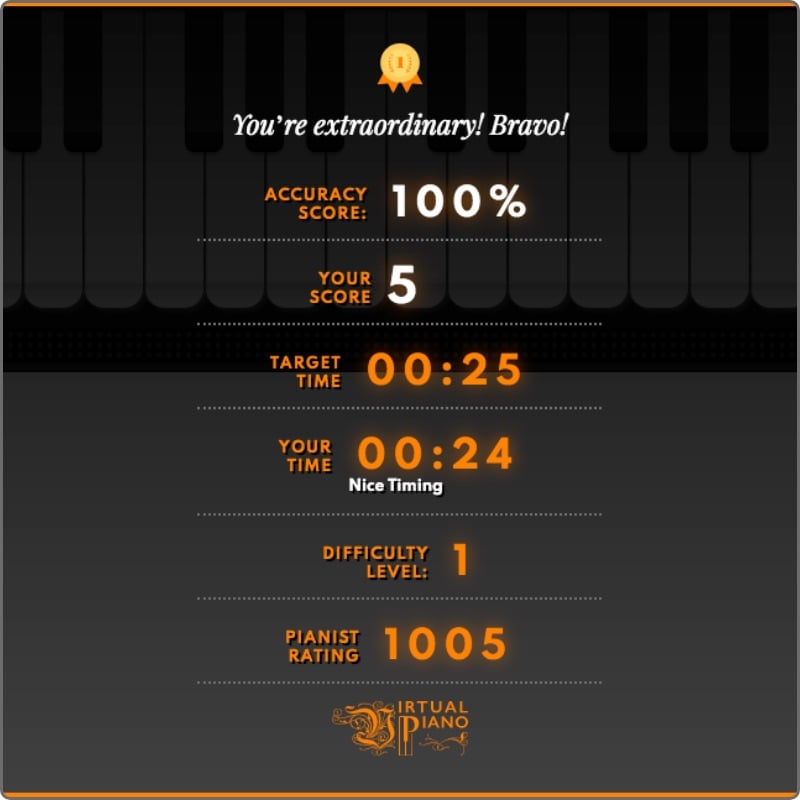 Go Further and Achieve Greatness with
Reach your goals and fulfil your potential with Virtual Piano Plus. The benefits are countless. Earn an official Virtual Piano Rating among a global community of 19 million online pianists. Experience Virtual Piano without advertising and at a much quicker speed. Customise and save your Virtual Piano world exactly as you prefer it and return to it exactly how you left it. Save your performances, record longer sound files, and simply do more. Learn more, continue developing and elevate your experience on an unparalleled scale. As a Virtual Piano Plus member, you get access to a world of additional bonus features and material. Begin your adventure today!
Discover the joy of Virtual Piano. Easily experience the virtual piano keyboard from your computer, tablet or mobile. Surprise yourself or your friends and family with musical talents you didn't know you had! Perfect one of your favourite songs and record it for a loved one. Or simply enjoy a mindfulness moment with a session on virtual piano.