No, it's not you, it's us. We've changed. Explore the best new features on Virtual Piano.
After many years of planning and extensive work by the team behind the scenes, you can now experience a wealth of new features on Virtual Piano! Born in 2006 and now updated for a contemporary audience, Virtual Piano is the go-to online piano resource for more than 19 million people a year. Since 2006, there have been 5 significant updates and re-launches, in response to user feedback and requests. This time, with 'Virtual Piano Reloaded,' we've gone even further and brought you a multitude of new tools, surprises and plenty of scope for musical innovation. So what's new? Here's a handy list of the 10 best new features on Virtual Piano.
1. Pianist Profiles
AVAILABLE FOR: Plus Members
Create a bespoke pianist profile, that you can customise and make your own. See your performance statistics including the average difficulty level of the songs you've played, your average accuracy and rhythm percentage and your current Pianist Rating. Collect gold, silver and bronze medals every time you play a song well. See the songs you've played in your performance history and the points you scored for each one.
2. New Instruments
AVAILABLE FOR: All users
You now have the choice of 3 beautiful, high-quality pianos. Each with their own sound. You can choose from a Classical Piano, the Virtual Piano default setting, or up the ante with a Grand Classical Piano, to give you that concert feel. And lastly, for the pianos, you can also enjoy the sound of an excellent Upright Piano. But that's only the beginning. We also have 10 other instruments for you to try out including an online Harp, Guitar, Organ, Violin, Glockenspiel and Pan Flute. So switch things up and try out one of your favourite songs on the Accordion, Sitar or even the Steel Pan! The possibilities are endless.
3. MP3 Recording
AVAILABLE FOR: All users
You can now record yourself playing Virtual Piano and save the MP3 file to share or keep. Experiment with some of the new features on Virtual Piano such as a different instrument or a song with Transpose set on +12 and record it! All users can record up to 30 seconds and Virtual Piano Plus members can record up to 5 minutes. Record Happy Birthday to send to someone special or perhaps use it to record something innovative and kick-start your music career?
4. Auto-Play
AVAILABLE FOR: All users
The Auto Play feature of Virtual Piano plays songs automatically. Use it to listen to how a song sounds before you play it. Or you can just enjoy experiencing some of your favourite music played on the piano while you work, rest or play. Alternatively, listen to one of your favourite songs played by a different instrument such as an Accordion, Violin or even the Oud!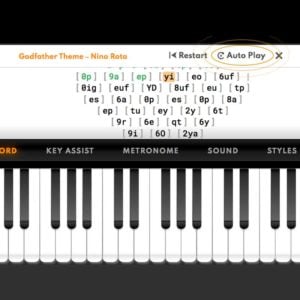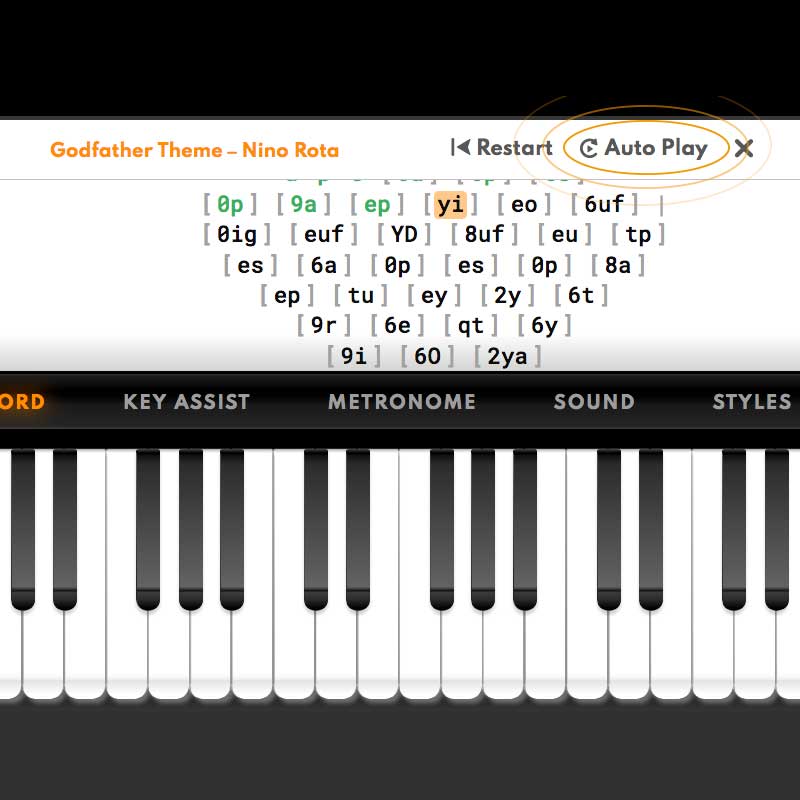 5. Piano Transposition
AVAILABLE FOR: All users
You can now increase Virtual Piano's note range to be both lower or higher. Some songs are normally played in a higher or lower octave and the transpose function allows you to move to that octave. The transpose function allows you to increase or decrease by up to 12 each way. Some songs in the Virtual Piano music sheets will indicate whether transpose is recommended and the transpose setting e.g -2 or + 5. You can access Transpose from the Sound menu.
6. Music Sheet Loading
AVAILABLE FOR: All users
Music sheets can now be loaded directly into the sheet stand above the piano, enabling you to quickly play any song, effortlessly. An orange highlight will show you the next note that you need to play and the sheet auto-scrolls as you continue to play the song. No having to manually turn the music sheet as you play the piano - genius! If you make a mistake and want to start again, just press Restart.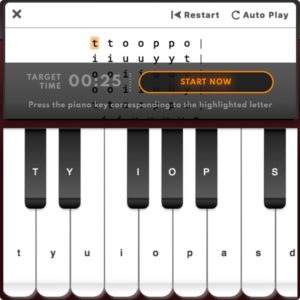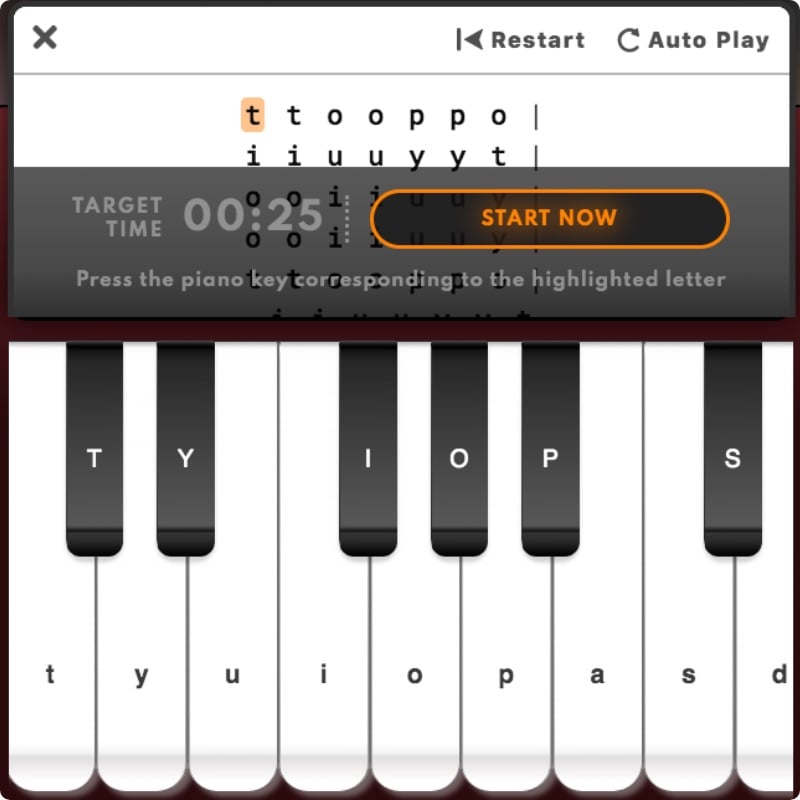 7. Piano Game
AVAILABLE FOR: All users
Play the Virtual Piano game from levels 1 - 10. Try out level 1 songs from the Super Easy category, then as you get better, move to Easy and Intermediate songs to score higher points. Keep your Virtual Piano practice up and you'll soon be heading for Expert level! The higher the score, the higher your Pianist Rating.
8. Metronome
AVAILABLE FOR: All users
Virtual Pianists can now keep to the rhythm of a song through the new metronome feature in beats per minute (bpm). Available on the main menu of the piano, you can set the exact rhythm you need from 40 bpm all the way to 218 bpm!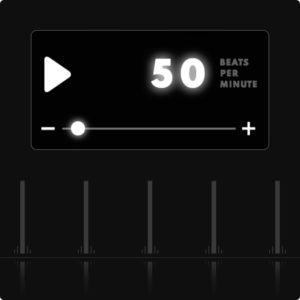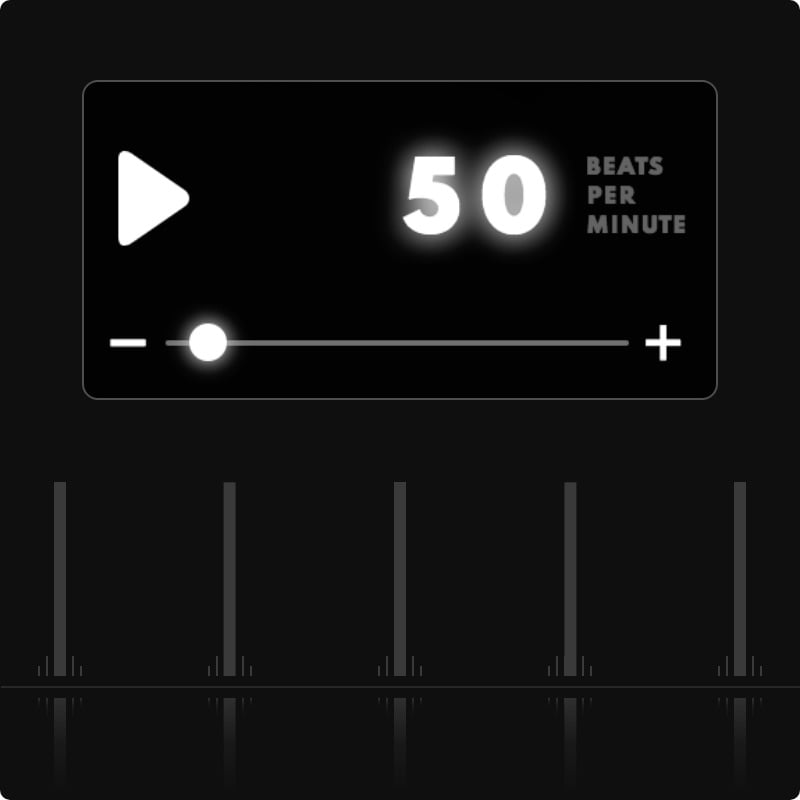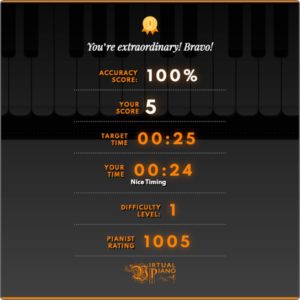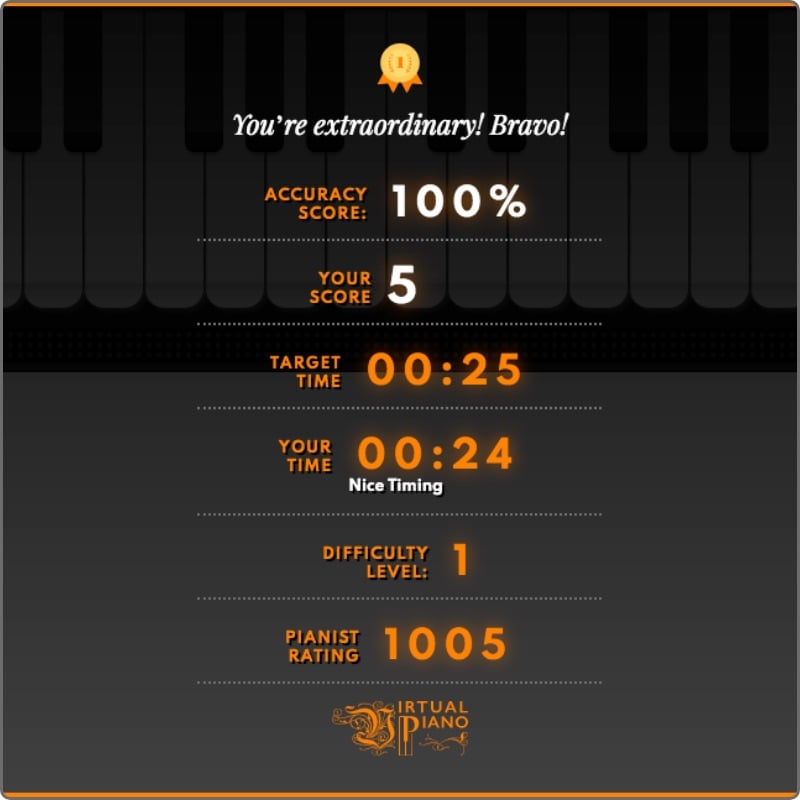 9. Pianist Score
AVAILABLE FOR: All users, SAVING FOR: Plus Members
Get rated for every song you play and watch as your score gets better as you improve! Every time you play a verified song you will receive a score, which is added to your Pianist Rating. Your rating will continue to go up and down during your Virtual Piano session. Harder songs attract larger scores and the closer you are to the recommended time, the higher the score. Virtual Piano Plus members can save their Pianist Rating to their profiles.
10. Ad-Free Version
AVAILABLE FOR: Plus Members
If you no longer want intrusive ads getting in the way of your Virtual Piano experience, you can now enjoy Virtual Piano ad-free with Virtual Piano Plus. By signing up as a paid member, you'll be helping to support the site whilst making your experience sleeker and giving yourself access to a wealth of additional features. It's a win-win.
So why not give these new features on Virtual Piano a go? Try out a new instrument, record yourself playing your favourite song or see how many points you can score on a song...
People from all over the world enjoy the accessibility of this online piano keyboard. Virtual Piano is free to use and always will be, as the site is predominantly supported through advertising. For the first time, if users wish to access additional bonus features, a Virtual Piano Plus membership is available for those who wish to subscribe to this.
Other interesting

Articles You Might Like