Learning the piano online is an attractive choice for beginners and those skilled in other instruments. The piano is a complex instrument but can provide students with multiple benefits. Musical education has a long history of helping people by supplying more brian power, aiding in better concentration and memory, improving socialization, and more.
Since the wake of the Covid-19 global pandemic, many music instructors have pivoted to offer online music lessons for their students. While this was a challenge, it also provided students with more options for taking classes since they were no longer limited to their location for in-person learning.
While you may have reservations, there are some significant advantages to learning the piano online when you start your lessons. Here is why online piano lessons can be the best option for you and how you can ensure your lessons go smoothly:
Benefits of Learning Piano Online
Learning From a Comfortable Location

Dorothy from The Wizard of Oz had it right when she said, "There's no place like home." Because let's face it, there is something special about being in the comfort of your own area. Your home is a safe place.

How does this correlate to online piano learning? Well, being at home can provide you with reduced anxiety and stress, which is great (especially for beginners). However, you also have the option to learn on your own instrument, keyboard or piano, which will give you more familiarity with it for practicing.

If you don't have your own keyboard or piano to work with at home, you should utilize a Virtual Piano, which is a way that you can play piano from anywhere. You can use a tablet, computer, or even a mobile phone device to play the piano. The added benefit of learning on Virtual Piano is that the platform gives you instant feedback on whether you press the right keys (accuracy) and at the right time (rhythm). If you're a member, it records your performances and automatically keeps track of your progress, providing you with a global pianist rating that improves as you progress. This can be a great learning and teaching tool.



No Travel Needed

Depending on where you live, you might be hard-pressed to find a piano instructor. You also might live in an area where the weather can make travel challenging.



Maybe there is a teacher in town, but they aren't taking on new students or live over an hour away. The convenience of not having to travel makes online lessons very appealing. There is a lot of saved time from travel, and there is no worry that you wouldn't make a lesson due to bad weather.



Online Lessons Are Productive

Online lessons are generally focused and productive despite the misconception that being at home allows for more distraction. When you're in person, there's usually more small talk or chitchat that occurs, but with your allotted time online, many teachers can just get right into the business of teaching. Your eyes have to be focused on your teacher to follow along, and vice versa.



For example, when working on your piano chords during an online lesson, the instructor has to see you and your hands. Likewise, when you are playing alongside or watching your instructor play to get a feel for a new piano piece, you must be giving your teacher your full, undivided attention. Increasing that focus provides more giant leaps in your productivity overall.



Saving You Valuable Time

You are probably a busy person, so saving time is crucial. However, since you don't have to spend the time to drive to a teacher, you have the opportunity only to utilize the time set aside for lessons FOR only your lessons. In other words, there's no extra time spent getting to your instructor or having an instructor come to you.



Online piano lessons also allow you to take lessons when convenient for you. For example, if you would rather start your day with a half-hour lesson instead of doing it after work or school, you will have much better luck finding the space for it in an online setting.

You Have a Wider Selection of Styles

You have multiple options available for teachers that specialize in different piano styles, such as playing classical, jazz, pop, or improvisational piano. Virtual Piano also offers different types of piano sounds including grand, piano, and classical so you can work with different piano sounds and discover what you prefer.



You can also take time when you choose your teacher. Instead of feeling like you have to settle for an instructor who lives near you, you can take some trial lessons with multiple teachers to find where you think you have a good fit. It allows you to establish a connection with the teacher while seeing if they can adhere to your desired goals. Perhaps you are a complete beginner who wants to learn the basics, an intermediate who wants to improve or an expert pianist who wants to brush up on style, you'll be able to discover your level and some great piano songs to play.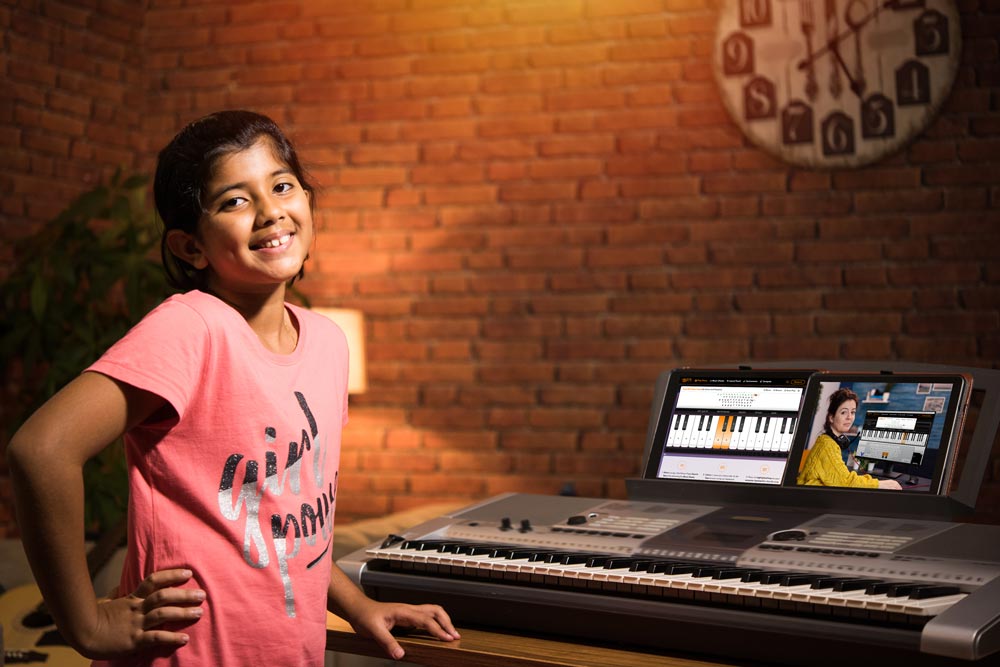 Tips for Smooth Online Piano Lessons
Since doing piano lessons online may be a new venture for both you and your instructor, it can help if you are prepared so that your classes go more smoothly. Some helpful tips and suggestions below will help you to get the most out of your online learning:
Equipment

Make sure you have all of the equipment you need well before your lesson begins. Have your computer or laptop, web camera, headset or microphone, as well as your piano, keyboard, or virtual piano within the video frame.

Side Tip - Headsets tend to work better for hearing, and many instructors may have you utilize an app that provides a more "live" sound when in your lesson rather than dealing with the typical delay. Webcams are also great because they offer a large screen for you to view and for your teacher to view you.

Check Your Placement

Make sure that your instructor can see your hands as well as the entire keyboard, piano or your Virtual Piano screen. Allow them to see how you sit to help your posture and finger placement and provide adequate lighting.

Side tip - Don't park yourself in front of a window where light is coming through; otherwise, you will look like a shadow. It can help if you get a ring light or set yourself up to face the window and the camera is in front of you.

Check Your Internet Connection

Make sure that your devices are all set and charged, and check that your internet is working with a strong signal. It can help utilize an ethernet cord plugged directly into your modem for a better connection. If you are utilizing a Virtual Piano, you can connect to a digital piano or keyboard through MIDI.

Be Practiced and Take Notes

Before your lesson, ensure that you have gone through and practiced. Measure your numbers in the score and identify any issues or areas that you want to discuss with your teacher ahead of time. During your lesson, be sure to take as many notes as possible and mark your score to remember everything covered (that way, your teacher doesn't have to repeat themselves for every lesson).
Once you start having lessons frequently, you will begin to adjust and understand where your camera needs to be and have all of your equipment and practicing space prepared for each class. It takes time, patience, and discipline, but you will soon be playing piano like a pro!
Just want to play instantly?

Simply choose a song from one of the below music sheet difficulty levels. Once you find the song, click on "Play This Song" at the bottom of the music sheet. It will load that music sheet on Virtual Piano ready for you to play on your computer. If you're a complete beginner, choose the first level, "SUPER EASY" music sheets and see how easy it is to begin playing today.
Other interesting

Articles You Might Like