Are you a teacher or an educator looking for remote learning resources? Would you like to use Virtual Piano as part of a distance education program? Well, you're in the right place! We've gathered together a list of online music resources for teachers and links to information on Virtual Piano that will help you create remote learning activities and music lessons in a virtual learning environment.
Online Music Resources For Teachers & Parents
Virtual Piano For Schools
Virtual Piano is used by millions of students as a learning platform in schools all over the world. It has introduced children to the piano and ignited their passion for music. See how Virtual Piano can be used in a teaching environment and as a remote learning tool. Engage students with interactive music lessons!
Easy Online Piano Lessons
Enjoy 4 easy online piano lessons for students, first-timers and improvers. Let students interact with basic music theory and learn how to play a song on Virtual Piano instantly!
How To Play
You don't need to be able to read music or to have played the piano before to play Virtual Piano. Virtual Piano music sheets contain letters that correspond to the keys from a QWERTY keyboard. So it's quick and simple to pick up.
Top 10 Remote Learning Tools
We've put together a list of the top 10 remote learning tools and education features on Virtual Piano that will help you get the most out of the platform. Discover how you can use Virtual Piano to create the best virtual learning environments and set remote learning activities.
The Exciting New Key Assist
Learn how the Key Assist feature can supercharge the student learning experience on Virtual Piano. Activate the key highlight or the keyboard highlight from the piano dashboard.
Virtual Music Education
Learn more about Virtual Piano as a learning tool and the vision behind its creation. Virtual Piano provides a new way of learning music principles quickly, with immediate access to high quality virtual musical instruments.
Virtual Piano Plus For Teachers & Parents
Like Virtual Piano? Then you'll love Virtual Piano Plus. Our premium membership offers more in-depth online music resources for teachers and parents alike. Plus users get to enjoy a faster engine, access to additional features, platform personalisation and a richer experience. The free version of Virtual Piano comes with moderated advertising. Parents, teachers and educational institutions that prefer to use an ad-free version choose Virtual Piano Plus. Premium membership has proven to be an outstanding tool for homeschooling and costs just $48 per year.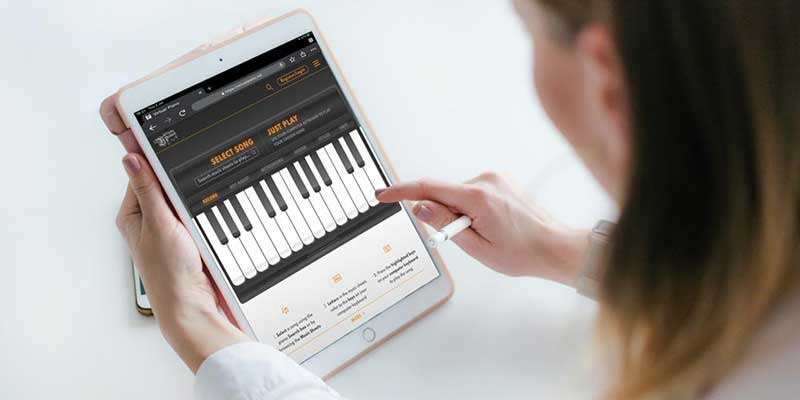 Other interesting

Articles You Might Like